Lynne Kolze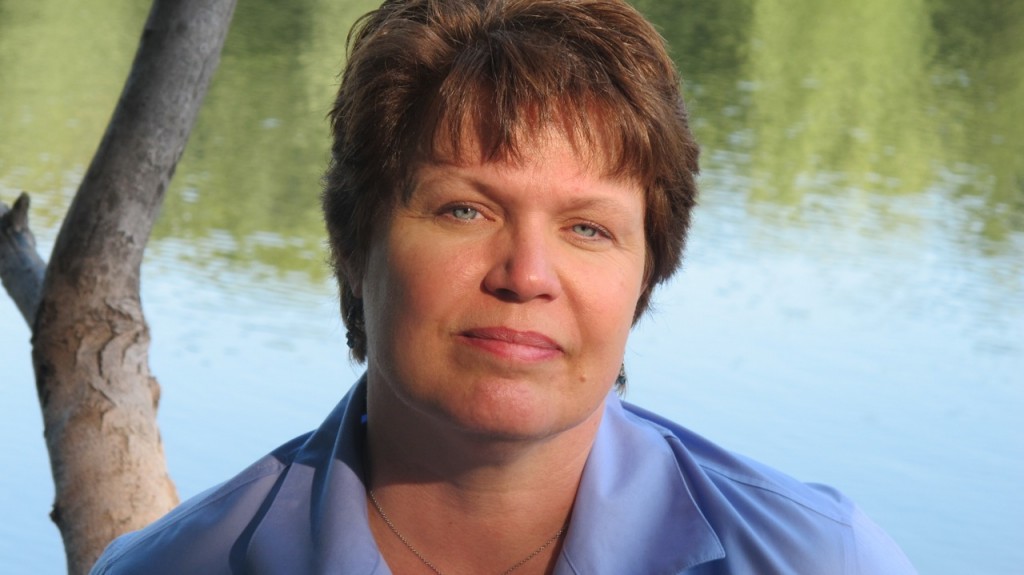 Through the years of changing landscapes and development, heartstrings deeply connected to the natural beauty of the earth and rivers can lead a soul right back to the communities who yearn to honor these gifts.
This is true for a long-time advocate for the Minnesota River at the Minnesota Pollution Control Agency (MPCA).
The fields of Lynne Kolze's great-grandparents' farm in Illinois are now under the runways of our nation's second busiest airport, O'Hare International. Yet, a deep connection to nature took root and prevailed in Lynne as a young girl because of her parents' love of nature and their steadfast commitment to taking the family camping year-after-year in the Apple River Canyon of northwest Illinois. Those childhood experiences were pivotal in Kolze's desire to give 23 years of service to environmental protection at the Minnesota Pollution Control Agency as a Principal Planner in the Watershed Division.
Kolze followed her passion into environmental policy.  She first worked for the U.S. Environmental Protection Agency in Chicago and Washington, D.C. A valuable experience, yet she yearned to be closer to the action, on the ground,  working with real projects and with citizens for the well-being of the environment.
One of the first people she met in Minnesota who made an indelible impression on her was a cattle buyer in Montevideo named Del Wehrspann.
When Kolze was asked by the MPCA to coordinate the Minnesota River Citizen's Advisory Committee in 1992, headed by Minnesota DNR's Deputy Commissioner Ron Nargang, she did not hesitate to invite Wehrspann to become a member. The purpose of this group was to study research results and recommend to the Governor what should be done to address the river's pollution problems. Many of the 25 members who served on this committee are still active, twenty years later, in advocating for the Minnesota River, including Del. And citizen's organizations like Clean Up the River Environment strive to accomplish many of their recommendations.
"We hoped that they would, as part of learning about the river, become ambassadors for it with us. And I think that's what happened. Their love of the river and their sense of having an obligation to do something was very real as a result of it," Kolze said.
Through her work with the Minnesota River Citizen Advisory Committee, Lynne learned how powerfully citizens could act together for the common good and began to see it as the future of watershed management. Since that time, she has never lost interest in citizen involvement in her work.
Creating a civic mindset within watershed projects; developing active citizens needed to solve complex water problems; and providing opportunities that are authentic for citizens to problem-solve and make policy – these are truly the hallmarks of Kolze's work. This view is sometimes contrary to a system that can separate agency experts from the values and concerns of the citizens that are most impacted by pollution problems in their watersheds.
In 2009, based on recommendations of the Clean Water Council, Kolze was asked to focus her work on encouraging greater civic engagement in watershed projects in Minnesota. An innovative civic engagement model being used in Iowa soon caught her attention. Led by John Rodecap of the Iowa Extension Service, four Performance-based Farmer-Led Watershed projects were successfully achieving high levels of participation from farmers in the watersheds. Intrigued by his approach, Lynne asked Rodecap and a participating farmer in one of the projects to speak about their experience to the Clean Water Council as well as to the St. Croix Basin Team.
The Farmer-Led watershed project model, which places leadership responsibilities for solving water problems within the farming community in small sub-watersheds, was of great interest, not only to the Clean Water Council, but to the St.Croix Basin team and the Wisconsin Department of Natural Resources. Since then, a number of farmer-led councils have been initiated in Minnesota and Wisconsin.
Today, Kolze is still committed to her work on civic engagement in watershed projects and strives to incorporate this design into the earliest stages of a project. Over the past two years, she has moved her focus to the St. Croix River Basin where great progress in embedding civic engagement into the basin team's work has begun to take root. Kolze believes that all water-related agencies will need to be part of this collaborative effort to govern water quality differently. This means greater focus is placed on engaging normal, everyday people who are the ones who can be part of the solution we need on the ground.
To read more about Lynne Kolze's experience on the Minnesota River, read her transcript.